We had an incredible turnout for our Webinar, aimed to help you transform your health in 2019. As a result, we decided to create a blog post that includes the full webinar recording, as well as an overview of the learnings for those that were unable to attend.
Webinar Recording
Webinar Overview
Cardiovascular Disease Is the #1 Killer for Men and Women
1/3 of all Americans die from Cardiovascular disease
Around 92 million Americans are living with CVD
Every 34 seconds someone suffers a heart attack
Annual health expenditure and lost productivity from CVD ~$330 billion
It's been estimated that 50-80% of these are preventable! Unfortunately, our healthcare system and associated lifestyle guidelines have failed to prevent disease. We could say at best they have failed to prevent heart disease, obesity and diabetes. At worst they have been implicit in its prevalence. While this graph doesn't show causation, it certainly shows the association of instituting national nutritional guidelines and the rise in diabetes.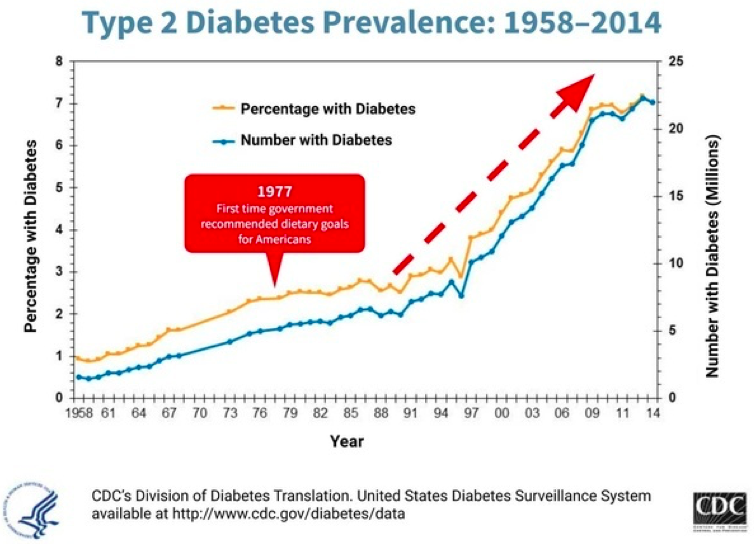 Drugs Don't Fix the Problem
60% of Americans take at least 1 prescription drug
15% take more than 5 drugs
Despite this, our overall health and life expectancy continue to decline
HEALTH IS NOT THE ABSENCE OF DISEASE!
In this webinar, we will discuss how to be your own best advocate, why low carb, high fat nutrition should be an option for everyone, and how lifestyle really is the best medicine.
3 Interventions to Improve your Healthcare Experience and Be Your Best Advocate
Make sure your doc is working with accurate information! Lipids and blood pressure are two prime examples of when doctors make decisions based on limited and faulty information.
Get your questions answered by writing them down ahead of time so you don't forget anything and tell your doctor at the beginning of the appointment that you have some questions you'd like to ask at the end.
Make sure you understand the purpose and benefit of each and every medication. Not some vague answer like "It will improve your cholesterol," or "It will lower your blood pressure." Rather, "what impact will it have on my longevity and quality of life?" Will I live longer? Will I feel better? What are the chances the drug will actually benefit me? These are the questions we need answered.
Why Low Carb, High Fat Nutrition Should be an Option for Everyone!
LCHF vs Low Fat Diets
LCHF Benefits
Decreased hunger, increased energy, mental clarity
Treats metabolic syndrome/insulin resistance
Better weight loss
Improves overall cardiovascular risk for most people
LCHF may not be the best for everyone, but it certainly should be an option for everyone. If you want tips that do work for everyone, follow these bonus tips for weight loss and overall health!
Don't drink your calories – even "natural" drinks are full of unnecessary calories. Think about it this way, you would drink a glass of orange juice, but would you really sit down eat the 5 or so oranges it takes to make it? If not, why drink that same amount?
Get rid of "Food Delivery Systems" – Think about the big sandwiches or burritos we see everywhere in our culture. What is the food? The stuff in the middle! The meat, the cheese, the veggies. What is the unnecessary food delivery system? The bread, the tortilla, the outer layer that has a fraction of the nutrients and a multitude of the carbs!
Lifestyle Really is the Best Medicine!
Science says lifestyle, not drugs, reverse disease:
NEJM study reported findings on patients at highest genetic risk for heart attack, over 90% more likely to suffer heart attack. Those with healthy lifestyles had a 50% reduced risk with no drugs and no surgeries!
JACC study found 85% of all heart attacks could be prevented with greater attention to lifestyle.
A 2018 British Journal of Sports Medicine study found that increasing walking pace to "brisk" for those over 50 reduced all-cause mortality and cardiovascular mortality by 20-24%.
Why is it so hard?
We have all been told that in order to be healthy, we need to eat less, move more, and reduce fat in our diets. But if that is the case, why is it that only 12% of Americans are metabolically healthy, and only 3% of Americans follow a healthy lifestyle?
Because the simple Eat Less, Move More, Reduce Fat approach DOESN'T WORK!!!
I want to assure you that it's not your fault, you've been given the wrong information.
"I was always told I simply didn't have enough willpower to stick to a diet. I couldn't understand why I was always hungry and craving foods. I figured it was all genetics. But working with Dr. Scher showed me there is a better lifestyle that I can stick with and still feel great and enjoy my life! Thanks Dr. Scher!"
Keys to Making Lifestyle Change Stick
Beware of one-size-fits-all nutrition and lifestyle claims
Individually tailored and flexible nutrition is the key.
When you eat is just as important as what you eat
Move your body more
Get Serious about your sleep
Don't be afraid to test and adjust
A Word of Caution
Don't try to Change Everything at one time.
Choose YOUR most important first step (nutrition, stress, fitness, etc.) and work on that until a new habit is created!
And remember, you don't have to do it alone! Working with an expert who can help you on your health journey will increase your likelihood for long term success.
As you can see, this was a quick tour to highlight the main points in the webinar. To get the full benefit, I recommend watching the full recording to get all of the context and be able to see the Q&A session at the end.
If you want to get the full experience, here is that recording again:
If you'd like to see the date and content of our next webinar, or be notified when our next webinar will be, please visit our Webinar Page.
I hope you enjoyed this recording, and that we will see you at the next live webinar!
Thanks for reading,
Bret Scher MD FACC